Klaha, 'Märchen' era

Name:
Klaha
Real name:
春名真樹 (Masaki HARUNA)
Date of birth:
5/3
Birthplace:
Osaka
Blood type:
B
Height:
176cm
Band history:
Pride of mind
9/1992 - 3/1996
Malice Mizer
8/2000 - 12/2001
Solo
12/2002 - 2009?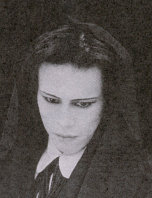 Masaki Haruna, 1994
Klaha (real name: Masaki Haruna) first stepped into the public arena as the co-founder and vocalist of Pride of mind, a band active from 1992-6. With keyboardist/guitarist Atsushi Fukuyama and percussionist Masanori Ito, the band played electronic 80's/New Wave-influenced music with a touch of classical influence. Pride of mind struggled during its early months, but gradually built up a fanbase, to the point of making several tours and appearing at events such as Shock Wave '96. During their three years of activity, they released two demos, a video, and a full album. However, in March of 1996, Masaki Haruna and Masanori Ito left the band, leaving Fukuyama on his own. At this point, the man who would one day become "Klaha" drops out of the view of history for several years.
Fast forward to 1999: iconic visual band Malice Mizer had just lost its vocalist and drummer, and left Nippon Columbia to return to independent label Midi:Nette. The remaining members Mana, Közi, and Yu~ki released two instrumental singles, but for Malice Mizer to be fully reborn, a new vocalist was needed. As it happened, Yu~ki was friends with a certain Masaki Haruna and still kept in touch; it was decided that Malice Mizer would invite him to be the third generation vocalist. And so, the mysterious "Fourth Blood Relative", Klaha, was introduced on Malice Mizer's single "shiroi hada ni kuruu ai to kanashimi no rondo", in May 2000. At this point he was not revealed to the public, always kept out of photoshoots or veiled behind blurry photo effects. Klaha provided session vocals for the "bara no seidou" album as well, but it was not until the "bara ni irodorareta akui to higeki no makuake" 2-day live that he was inaugurated as an official member of the band.

Klaha, 'Shiroi...' era
Once Klaha took his place alongside the other members, Malice Mizer's final era began. While previous vocalist Gackt had played more of a "romantic/tragic prince" role, Klaha's image in the band was more of the "gothic aristocrat/gentleman". While his image was darker to fit the tone of the new Malice Mizer, he also injected a softer note of sentimentality into his lyrics. Thus, in 2001 the band released the singles "Gardenia", "Beast of Blood", and "Garnet", and filmed the silent movie "bara no konrei" in which Klaha played the hero. However, Klaha's tenure was to be the shortest of all Malice Mizer's vocalists, as the band went on "indefinite hiatus" at the end of the year.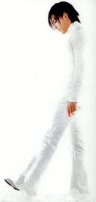 Klaha, 'Nostal Lab'
Unlike the last time one of Klaha's bands broke up, this time he had definite plans to continue in music. Thus, in December 2002 he released his first solo album "Nostal Lab". In a dramatic departure from his old ways, he took on a much lighter image, and wrote pop music with a sentimental, nostalgic feel to it. This, he said, was his way of expressing what was in his heart and exploring new musical avenues that he couldn't pursue while in Malice Mizer. He followed this release with 2003's single "Märchen"; both of these were accompanied by short live house tours. 2003 also saw the release of a PV for "Märchen", but Klaha's activity slowed down significantly soon after that. In early 2004 he released what is so far his last work, the mini-album "Setsubou". His latest live was a single appearance in April 2004; since then he has been in seclusion. After stating that 2007 would definitely be the year of his return, the year passed without any communication from him; there was no further word until his website quietly expired in July 2009. It is presumed that Klaha has permanently retired from public life at this point.